My Autographed Items
---
Introduction
Well this is the page where I present scans etc. of things that have been signed for me by celebrities. Okay, being quite an ordinary person, some of the people I present as celebrities here will not be that famous in some people's eyes, but I like them anyway. :-) You may also think me a saddo to put these here, but hey, it's my website and I'd like to keep some sort of record of these things. :-p
---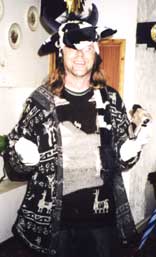 Jeff Minter, or Yak as he is known, is the man behind the legendary software company Llamasoft, who made such classic games as "Sheep In Space", "Hovver Bovver", "Attack Of The Mutant Camels", and many other uniquely-inspired games for platforms such as the Commodore C64. Llamasoft was originally established way back in 1982, but fate has set the scene for it to be resurrected for the 21st century, with new games to match. :-) The first two titles are "Deflex" and "Hovver Bovver II: Grand Theft Flymo". :-D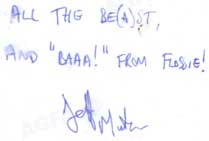 I emailed Yak from his website, and humbly requested a signed piccie. He obligingly dug out a photo, wrote a message on the back and signed it, and sent it to me, a humble fan. :-) Here is the autograph for your viewing pleasure. In case you're wondering, Flossie is his beloved sheep - his, er, "pet" you might call her ;-), but in any case you can click the photo or the autograph for a bigger version.

---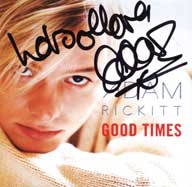 Adam Rickitt is perhaps best remembered for playing Nick Tilsley in the British soap opera "Coronation Street", but since leaving the show he had a singing career with hit songs such as "I Breathe Again", and... er... well, there were other songs I'm sure. This autograph was from when Adam came visiting my home town of Southampton, which must have been a Tuesday afternoon in late autumn 1998. I was supposed to be in a laboratory session that afternoon (I was studying physics at Southampton University), but I skived, erm, I mean re-scheduled, so that I could go and see him. It was worth it. :-) He appeared in person to sign autographs, so I bought a copy of his album (with a student discount of course) and queued up for him to sign it. He was very nice, big smile the whole time, and wrote "Lots of love" (yes it does say that) on the inlay card, and signed it Adam with a kiss underneath. Didn't seem at all perturbed by the fact that I wasn't a girl ;-), which I think is nice.

---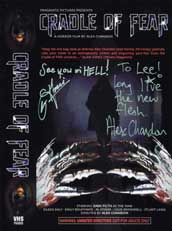 "Cradle Of Fear" is a horror movie from Pragmatic Pictures. I bought the video via the website, but it was late so the makers kindly signed the inlay card before they dispatched it, as a means of apology. More than welcome. :-) It's been signed in silver pen by the director, Alex Chandon. I've scanned the inlay card (well the front and sides anyway :-p) and here it is for anyone who's interested to see. Just me then, is it? Fine, see if I care.

---
Well if you ask me, Robert Llewellyn is best known for playing the mechanoid Kryten (main picture) in the BBC sci-fi/comedy series "Red Dwarf". He has also made an appearance in another BBC comedy series "Bottom" with Rik Mayall and Adrian Edmondson, in which he played a guy in a pub with one leg (the guy, not the pub). He also presents the Channel 4 series "Scrapheap Challenge", in which contestants are told what to make, then they have to construct it from things found at the junkyard they're at. To some, the programme is an inspiration as to what can be made of apparently useless material if one puts one's mind to it. To others it's just an entertaining half-hour of TV. In either case, a new series was scheduled to be recorded from April, to be screened on Channel 4 from September (2002).

---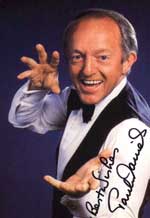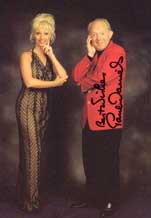 Paul Daniels, magician, pictured with his lovely wife and assistant, Debbie McGee. Sadly not much is seen of the pair on TV these days, but he was very famous in Britain a few years ago. I emailed Paul from his website to request a signed photo, and he sent me two. :-) Why not check out his website for yourself - I think you'll like it. Not a lot! But you'll like it.

---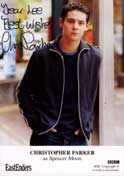 Christopher Parker, who plays Spencer Moon in EastEnders. He also appeared in a UK television advertisement for Ariel Liquitabs. This was easy to get - you just have to visit the EastEnders website to find an address you can write to, and request autographed pictures from your favourite stars. And currently, this lovely young lad is my favourite star!

---