Babyz Desktop Theme
---
"Babyz" from Mindscape is a game that gives you your own "virtual bundle of joy". Yes, it's a desktop baby simulator! I couldn't resist buying it on the spur of the moment when I saw it in my local software shop (that was about a year after it was released, as it turned out). It cost £9.99 and came with a microphone for talking to the babyz - did I mention that you could teach them to talk? It uses IBM's ViaVoice technology, and although it was a very simplistic method of communication, I had never seen anything like it in such an affordable game before. With on-line services such as adoption and new features to download from the website, this spawned quite a cult on the web.
Sadly, official support now seems to be defunct, although there are still plenty of opportunities for obtaining the downloads from the internet via other game-owners. However, one thing I couldn't find was a Babyz desktop theme. To me, this seemed like an obvious thing to create, so why couldn't I find one? Well I decided that I should do something about it myself, so I created my own - and it's now available to download here! I've designed it to run at either 800x600 or 1024x768 screen resolutions (well you can't play Babyz at less than 800x600 anyway, and it's designed for 1024x768). The download is a fairly hefty size, but then the backgrounds are pixel-perfect bitmaps, designed by my good self. :-) Also, the sound samples used are taken from CD quality MP3s - do you think that I should compromise sound quality for the sake of a smaller download? Feel free to let me know either way.
Click the preview to begin downloading. When that has finished, unzip the whole thing to your desktop themes directory (e.g. C:\Program Files\Plus!\Themes). Load up your DTT program, and load the version of the theme for the screen resolution you are using. There may be other steps for getting the DTT exactly as I intended it, which are detailed below. Also, to get the correct My Computer icon, you have to have Babyz installed into the default directory.
Known issues for this include the fact that on my version of Microsoft Plus! at least, it doesn't seem to allocate the My Documents icon automatically - you have to use the desktop properties feature to change the icon manually. :-( Also, the colour for an active title bar should be dark blue merging to dark pink, and for inactive title bars it should be light blue to light pink. The pinks are not selected as these by default - again, you have to do it manually. Maybe those are just caused by my installation of Plus! malfunctioning slightly, but I don't know. If you could let me know what your findings are then I would be grateful. :-) Maybe you can offer some help as to how to write the .theme file manually?
Also, all the icons except for My Computer do not have true transparency, because I didn't have software to do that at the time. I do now, but have not updated the desktop theme due to a lack of interest, or at least a lack of feedback. If anyone would be interested in an updated version, please tell me or I will spend my time on other projects instead.
Desktop Theme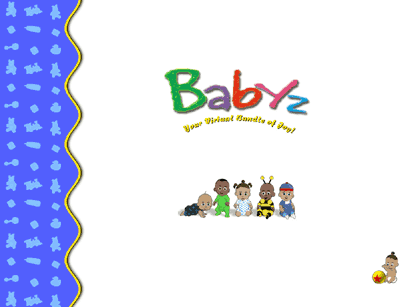 Babyz Desktop Theme v1.02
Here's the preview of the backdrop to my Babyz desktop theme. Click the image to begin downloading, and follow the instructions above to install it when finished.
File size: 1.7MB

The Babyz bottle pointer came from Comet Cursor* - and it's free!
* CometZone were kind enough to let me include one of their pointers for other people to download with my desktop theme, for no charge at all. I think the least I can do in return is to direct you to their site and encourage you to download their Fun Cursors software. This is what allows you to choose your own customised pointer on your desktop! It's completely FREE, so please check it out.
---