Grand Theft Auto 3
Warning - this page is dedicated to the computer game "Grand Theft Auto 3", AKA GTA3, which is rated 18. Since this page contains discussion of the content of the game, discretion is advised when viewing it. This is the only warning you will get - from here on in I will assume that you do not consider this content unsuitable for you, I will not be held responsible for any offence you experience from reading it, and the rest of this page is dedicated to discussion of the game itself. Right, that's it.
Still here? Your choice.
---
GTA3
We bought Grand Theft Auto 3 for PS2 on the day it came out (26th October 2001), so I've been playing that a lot lately. ;-) I'm a big fan of this series of games, although the whole concept is rather controversial because it's a Crim Sim (crime simulator, in which you are the outlaw and have to avoid the police). The original was banned in Brazil, and the latest sequel, GTA3 was originally banned in Australia. Interesting that the Australian censors had no problem with the drugs, robbery, blackmail, brutal assaults, torture and murder in this game, but when people start having sex for money, suddenly that's unacceptable. Happily Australia now enjoys an edited version (no prostitutes, and reduced swearing), which I suppose is better than nothing. Thanks go to Liam Best for that information, which I was previously unaware of.
But thankfully for me, who just likes to enjoy the game for what it is, it's still legal in Britain. GTA3 brings the title into glorious 3D, making it far more realistic than ever before. This is even more controversial because of the terrorist attacks in America - GTA3 is set in Liberty City, and although it's a fictitious place, it's obviously a parody of New York City.
There has even been talk of toning down, editing or censoring future GTA games as a result of terrorism, which I of course totally disagree with. Whilst I have every sympathy for the victims of terrorism (meaning those who died and their friends and families), I haven't blown anyone up. When I play the game, any consequences are encoded as 1s and 0s inside the PS2 circuitry, and all "deaths" are nullified when the machine is switched off. Being a reasonable and rational human being with a mind of my own, I know the difference between fantasy and reality, and I wouldn't consider recreating these actions in real life. In fact I want the series to be even more realistic - more violence, more blood, more broken bones, etc. After all, if a game is more realistic then I'd have no need to go out and do it in real life (although I don't wish to imply that I would do it for real if I didn't have GTA to play). Why should my gaming experience be less realistic because of what a few extremists do? Do the censors think that terrorists sit around playing GTA3 and the like all day?
The idea of censoring games like this is a pointless PR stunt, designed to make the general public feel better by making them think the government is actually doing something worthwhile to combat the situation. Sadly, the very idea of censoring computer games is a haphazard, stab-in-the-dark gesture, which only serves to prove that they have no idea how to effectively combat the problem. If the authorities can track down and deal with terrorists, then that's good. They are the perpetrators, and they should be the ones to be punished. As a person who firmly believes in the right of the individual to choose for him/herself, I am against censorship in general - I would have thought that putting an 18-rating certificate on the game would be plenty enough even for the Oprah Winfreys of this world. I would take any and all reasonable steps to campaign for the preservation of the realism of the Grand Theft Auto series - and even to advance it. I am not responsible for the actions of terrorists, so why should I pay the price for it? Maybe I'm being insensitive, but I don't care how violent a computer game is - the bottom line is that it's just a game!
Well that's what I think anyway. :-p
---
GTA3 Features - Good vs. Bad
I've compiled a list of features here, which I started when I first began playing the game, but I've added quite a lot as I've played the game more. A lot of the bad points that were annoying to begin with I've got used to now, but I think they should be addressed in GTA4 (scheduled for 2002), and if I didn't write them down now then I'd forget about them later on. Also I make some suggestions that are debatable or a little nit-picky. Even so, if the game-makers ask for suggestions concerning the next sequel (they did it for WWE Smackdown! 3 - Just Bring It) then I will submit all these for them to muse over.
Good
3D for the first time
You can still save your game (like in GTA2) except that now you can store a car too - every island has a garage at the save point, each of which can hold at least one vehicle
Clear foggy rainy weather adds realism to the atmosphere
Day and night cycles - try finding a peaceful hilltop and watch the sun rise
You can roam all areas as you progress, instead of just the current level
Variable driving speeds - you can now cruise the streets within the speed limit and in the correct lane like a respectable citizen, or take a sports car onto the highway and floor it like you're playing Gran Turismo or something
Multiple views - e.g. driver's-eye view, several external car views, the top-down GTA1-style view, or even cinematic camera like a Hollywood car chase!
You're not the only criminal around here any more - you might have your car stolen from you by some other car-thief (like in GTA2) or witness some poor pedestrian be mugged; will you take the law into your own hands?
You can catch the subway train between islands, as well as being able to drive there yourself via the roads
Boats - you can steal a police boat with forward-firing guns, or take any boat to other islands as well
Other vehicles pull over when your siren is on
New ball bat weapon
When you perform some crazy flying-through-the-air manoeuvre (like driving at top speed off the ramp on the roof of the multi-storey car park on Staunton Island), the camera shot changes to a slow-motion cinematic view for dramatic "wow" effect
Collect hidden packages (dotted around the levels) to have new weapons available for free at your hideout
Parodies of movies etc. (look out for posters of movies such as Badfellas, Pirates In Mens' Pants, etc.)
Mugging people - beat them up and take their money or weapons!
Picking up prostitutes

money ticks down, but you can mug them afterwards and get some of it back
park the car on a grassy area, and get down to some serious action ;-) - your hit points will tick up, to a maximum of 125!

Driving through windows (selected), e.g. the car showroom in Portland to steal the sports car inside
Emphasis is still on GTA-style missions, but some Driver-style missions gets a good balance
You can be the good guy and take on the special missions - in an ambulance you can deliver sick people to hospital, in a fire engine you can go around putting out fires, etc.
The taxi special mission is just like having Crazy Taxi as a sub-game!
Missions are good and challenging, and are on a learning curve
You can knock lampposts, traffic lights, etc. down in a vehicle, or use a rocket launcher to take out the lights
Nice array of weapons
Dead bodies of pedestrians turn into chalk outlines
When you drive over the body of a pedestrian, you can feel the bump as the tyres go over them!
Nice cars (unlike GTA2), including the triumphant return of the Beast GTS (except it's now a convertible called the Banshee)
Decent built-in cheats
Unlike Gran Turismo 3 and the like, the vehicles in GTA3 visibly suffer with every knock - dents, lost parts, you name it
When a vehicle explodes, you can push the wheels around - the parts are still interactive
You can now knock down most lampposts, traffic lights, etc. in a vehicle - there's no more of that "indestructible signpost" syndrome like in GTA2
Bad
Rain effects could be improved

always rains straight down
rains indoors! E.g. under bridges, inside airport hangars, etc.

Can't look or aim straight up (probably because rain would appear to fall horizontally to ground)
Controls are confusing (I've tried to rectify this, with limited success - see my table below)

change depending on whether in vehicle or on foot
*directions change depending on camera angle - better with up as forwards etc. (this is even wrong in the top-down view)
can't scroll through weapons while in vehicle
if you want to beep the horn, you have to take your hand off the wheel (but this is not too consequential, since the horn now has no function anyway**)

Difficult to "aim" weapon self properly because of directional issues* - this would be rectified by my proposed new control system, below
Third island is almost featureless apart from the airport, and is composed of an absolute maze of roads - a rushed job on that, methinx
The cops still won't chase anyone else - if you're attacked, and a cop sees you defend yourself he will chase you instead of the other guy
Selected weapon changes when getting in out of vehicle, if you have the Uzi (this is because the only weapon you can use in a vehicle is the Uzi, and you can't change weapons while in a vehicle)
**Horn no longer disperses pedestrians, so you have to run them down if they're in the way
When using the "look" function (RAS), you can't scroll through weapons carjack etc.
The "look" function will go back to normal view if you don't move the RAS for a couple of seconds
Crappy music throughout IMO (with the exception of the one track taken from the original), there are no immediately great songs - radio in general lacks the feel of GTA1, and it should be more hardcore punk-rock or hip-hop style
No motorbikes in PS2 version (apparently these will be in the PC version)
Airport is disappointingly non-interactive - planes land and take off on the runway (which is way cool) but motion is unrealistic, and you can drive through them; I also wanted to hijack planes and helicopters
Very basic mass transit system (trains)

only present on one island of three
no other passengers on the train
lack of detail inside - no seats, etc.
no controls at all while in the train, except R3 to look behind when stationary (not much use) - it would have been nice to look around, scroll through weapons, mug other passengers, etc.
train can't be hijacked either - but that's not very important

Briefings screen can be difficult to read (e.g. green text on grey background etc.)
No map screen - you have to have a map on paper while you drive on-screen
Inadequate scanner - would have been better to show AmmuNation, Pay 'n' Spray, etc. all the time, as well as all roads (or maybe put these on the proposed Map Screen)
No other small boats in the water, except when you're on a mission that specifically requires it
Articulated truck cabs are to be found, and there are even the trailers for them parked around - but the trailers are only part of the scenery, you can't use them (like you could in GTA2)
Player doesn't seem to have a name, and you can't define one
This guy still can't swim, after all the GTA games there have been - get up to your waist in water and you drown, there's nothing you can do about it***
Water is a problem for cars too - land in the river and although you float [sarcastic gasp] you can't get the doors open, you will just drown***
*** In all fairness concerning the issue of drowning, it is possible to survive if the ground slopes down to the water, e.g. at the beach. On foot or in a car, you can go a little way into the water and come back out again without dying - you will only lose a few hit points when the water becomes too deep.
My Overall Rating: 4 out of 5
Room for improvement here, but this is an excellent start to what I'm sure will be many GTA sequels in 3D.
---
GTA3 - Controls
The controls I found to be a little confusing, because the same (or comparable) function is controlled with different buttons depending on whether you're on foot or in a vehicle. There is also the directional issue I detailed above - it's possible to find yourself in a position where the character walks backwards and forwards along the same short line when you hold forward on the pad (to walk forward) because the camera shot changes. The first thing I would change is the way in which the directional control works - currently, pressing up moves the character away from the camera, down moves towards the camera, left moves to the left of the screen and right moves to the right of the screen. Whilst this might sound reasonable, I would have done it more in the style of GTA1, Resident Evil and the like - i.e. up moves forward (regardless of camera position), down moves backward, left turns left and right turns right. The following table summarises the existing controls and my proposed system - differences between the two are highlighted in the "My Proposed" columns.
Button
Current
My Proposed
In Vehicle
On Foot
In Vehicle
On Foot
Up
-
MOVE FORWARD
ACCELERATE
WALK FORWARD
Down
-
MOVE BACKWARD
BRAKE REVERSE
WALK BACKWARD
Left
STEER LEFT
MOVE LEFT
STEER LEFT
TURN LEFT
Right
STEER RIGHT
MOVE RIGHT
STEER LEFT
TURN RIGHT
Triangle
GET OUT
GET IN VEHICLE
GET OUT
GET IN VEHICLE
Circle
FIRE UZI
USE WEAPON
FIRE UZI
USE WEAPON
Cross
ACCELERATE
SPRINT
ACCELERATE
SPRINT
Square
BRAKE REVERSE
JUMP
BRAKE REVERSE
JUMP
L1
CHANGE RADIO
FORWARD VIEW
HORN SIREN
FORWARD VIEW
R1
HANDBRAKE
AIM WEAPON
HANDBRAKE
AIM WEAPON
L2
LOOK LEFT
PREVIOUS WEAPON
PREVIOUS WEAPON
PREVIOUS WEAPON
R2
LOOK RIGHT
NEXT WEAPON +
CHANGE TARGET WHEN AIMING
NEXT WEAPON
NEXT WEAPON +
CHANGE TARGET WHEN AIMING
L2 + R2
LOOK BEHIND
-
TOGGLE SPECIAL MISSIONS
-
L3
HORN SIREN
-
CHANGE RADIO
-
R3
TOGGLE SPECIAL MISSIONS
LOOK BEHIND
LOOK BEHIND
LOOK BEHIND
LAS
STEER
MOVE
STEER
MOVE
RAS
-
LOOK AROUND
LOOK AROUND
LOOK AROUND
Start
PAUSE/MENU
PAUSE/MENU
PAUSE/MENU
PAUSE/MENU
Select
CHANGE VIEW
CHANGE VIEW
CHANGE VIEW
CHANGE VIEW
LAS
RAS
= Left Analogue Stick
= Right Analogue Stick
L3
R3
= press LAS down (you will hear it click)
= press RAS down
Thus a summary of the proposed changes is as follows:
On foot
The directional issue has been sorted out by modifying the way in which the D-pad works
In vehicle
"Horn" and "Change Radio" buttons have been exchanged so you can sound the horn at will without taking your hand off the wheel (I expect the horn's functionality to be replaced in GTA4)
The "Look Left" and "Look Right" buttons have been replaced by "Change Weapon" buttons (I would like to see the player able to fire other weapons from inside a vehicle, so naturally you will want to choose which weapon to use)
Added the "Look Around" function to the RAS, or press it down (R3) to look directly behind, or click R3 to return to a forward view - this would allow you to see all around the car, thus making up for removing the "Look Left" and "Look Right" buttons above (hopefully this would be workable), and make the controls just as they are on foot
Added accelerate and reverse functions to up and down on the D-pad respectively - this will allow you to carry on driving when you need to look behind (you will need to use your right thumb to press R3), and again will hopefully be workable...
Potential issues problems
There is now no button to look directly left or right, so if you think someone is coming to jack you out of your car you have to use the RAS to check - this seems too slow and cumbersome, and may be a problem even if the rotation rate of the camera is increased
If you can't look directly left or right, how do you shoot? Maybe the gun would just be aimed in the direction you're looking at the time - but again this may be too slow and haphazard
Resolving the inconsistencies in the control system turned out to be harder than I expected! I don't know if my proposed changes to button assignments would work properly unless I were able to actually try it. It would have been nice if the programmers had let the user choose the directional system (GTA3-style or GTA1-style), and also to assign any button to any function. That way the controls would have been truly customisable to the individual - I could make the changes myself, and everyone would be happy. :-)
---
GTA3 - Cheats & Hints
I used to have a table of cheats here, but I took it out because all the cheats I knew about are readily available elsewhere, and it seemed pointless to reproduce them all again here. I would rather keep this page to my own original stuff. I think most people know about those cheats by now anyway. :-p If you don't though, there is a complete list of cheats at Gouranga.com
I also have some hints of my own, which I have listed here. Some will seem obvious if you played the game much. :-p These all came from me, unless otherwise credited.
Cop cars always have a shotgun in the back, so if you get into one you'll get a shotgun plus 5 shells
Police vans will give you full armour - there's an empty one parked in the police station on Staunton Island
The police helicopters (Copper Choppers, as I affectionately call them) can easily be taken out with one shot from a rocket launcher - it is possible with the M-16, although it will use up quite a lot of ammo
In Portland and Staunton Island, any bonuses you have at your hideout can be refreshed by walking right to the back of your garage and then out again, effectively giving you infinite power-ups for whichever ones you've earned via hidden packages - this is useful when you want to stock up on ammo for your weapons, or when you have the police bribe, as you can keep on doing it to remove your star rating completely without leaving the relative safety of the hideout
Be warned: any tanks you conjure up via the tank cheat will be saved with the game, so be sure to blow them up when you've finished with them, or they'll be littered around the city - the flame-thrower is best for this, or you can use petrol bombs
Pick up a prostitute in a car (I don't think you can use taxis or emergency vehicles) and park on some grass - she'll tend your every need ;-), giving you up to 125 hit points
If your hit points total less then 100, hop in an ambulance to add 20 hit points (max 100 by this method) - you can only use each ambulance once like this, and if your hit points are more than 100 (by picking up hookers) it will take the number down to 100
There is a secret way into the police station on Staunton Island (this is probably a bug actually) - if you stand in front of the station (so that you're looking at the passageway leading down to a metal door), walk towards the left and you can just squeeze through between the corner of the building and a low wall, onto a ledge on the left-hand wall. Shuffle along there and there's a place in the black part of the wall that you can walk through as if it's not there, straight into the police station! Be careful though - there are some parts of the floor that you will fall through onto the pavement outside. Well I told you it was a bug! Credit must go to my brother Lloyd Clarke for discovering that one.
---
Links
Here are some GTA3-related links (the official website is linked from the introduction of this page).
Official websites I knew about - others are listed at Gouranga.com
SleepOffLard.com - The Official Dormatron Website
Unlike those other exercise machines that require you to be awake, the DORMATRON actually exercises you while you sleep! Don't be fat a day longer than you have to; call 1-800-SLEEP-OFF-LARD or visit the website to learn more about "biorhythmic subconscious gymnastics", the revolutionary technique utilised by this remarkable machine. It really works! Remember, being fat can even ruin a romantic cruise! As advertised on Liberty City's Chatterbox FM radio!*
PogoTheMonkey.com
"The game kids are sure to stare at for hours!" Help Pogo through this excellent platformer, and guide him to his final destination - to storm the White House with his friends, and become president of the United States! Personally recommended - this is a great game. :-) Why not buy some of the merchandise too? As advertised on Liberty City's Chatterbox FM radio!*
PetsOvernight.com
Have you become bored with your friends and family? Yesterday's puppies and kittens grown up and not cute any more? Would you like a new companion? Well now you can! Just log onto PetsOvernight.com, and get a pet of your choice delivered straight to your door - overnight! "PetsOvernight.com - delivering little bundles of love, in a box, directly to your door." As advertised on Liberty City's Chatterbox FM radio!*
AmmuNation
This is the very best place to buy your munitions - whether for personal protection, home defence, or blood-filled rampages. Visit the website to browse products, or order on-line - the service is excellent, and delivery is speedy too. Official sponsors of the "Liberty City Survivor" reality TV show!
Other useful GTA3 websites
GTAtanks.com
Okay, this one's a genuine website. :-p A great resource for the entire Grand Theft Auto series, with a distinctly tanky feel. ;-)
Gouranga.com
Another huge resource for all things GTA. :-)
GTA3 Guide
A new site, but looks promising - it has a good layout, and has content I don't have on my page.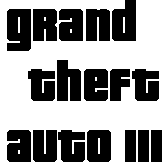 Click on the preview to the right to download the Price Down font, which is similar to the one used on GTA3 (it's not exact but it's pretty close) and was made by Ray Larabie of LarabieFonts.com. Download the zipfile, then unzip it to your fonts folder (e.g. C:\WINDOWS\FONTS). There's a ReadMe file in there as well as the font itself.
You can also download the GTA Winamp skins I've made - these are available on my Winamp skins page.

---
Trivia
A few small pieces of trivia about this game:
There's an English guy who phones in to Chatterbox FM*, and says he's from Hampshire in England. Well that's actually where I live! Slightly cool, huh? ;-)
Flashback FM* features "Rush Rush" by Blondie! I have a cover of it by Union City on CD. :-) Thanks go to Jason Hauck for emailing me to say that all the music on K-JAH is from the album "Scientist Rids The World Of The Evil Curse Of The Vampires" by Scientist.
There's a spelling mistake on the green signs hanging above the road on Shoreside Vale - they read "Witchita Gardens" (there are examples in the middle of Cochrane Dam, and a couple at the junction where there is the road and tunnel entrance to Staunton Island), but everywhere else Wichita is spelled without that first 'T'.
Tony Cipriani pronounces his own surname two different ways - when you first meet him, he copies Joey by pronouncing the 'C' like in the word 'cell', but then later he pronounces it like in the word 'car'. Is it pronounced 'Sipriani', or 'Kipriani'? It's probably 'Sipriani', because the character is a parody of Tony Soprano.
Go into the Internet Cafe in Staunton Island (it's called Tw@ - you work it out). Use the Look function to look at the two computer screens on the ground floor, or even better use the sniper rifle to zoom in - the monitors are displaying screenshots from GTA1 and GTA2.
There's a mission called Two-Faced Tanner, where you have to kill a "strangely animated undercover cop" who is "more or less useless out of his car" - for those who don't recognise this reference, this is a dig at Driver and Driver 2. ;-) In all fairness to these two games, they paved the way for GTA3 and did very well considering they were on PSX instead of PS2.
If you pick up an ice-cream van and pull over near a pedestrian, they will often walk towards the van as though to buy an ice-cream - but then they just wander away again. Was this a feature that didn't get finished for the final game?
Check out Flickering Pedestrian Syndrome! Here's how to find at least one example: on Staunton Island, go all the way north to the army surplus place (where you meet a one-armed guy on one of the missions). Instead of going into the base, turn left at the end of the road, onto a pedestrian path. Follow the path until you see a turning on the right - it corresponds with a piece of land shaped like a backwards letter F sticking out into the water. Take the turn right, and head a little further south to find a flight of steps leading down onto the F-shaped jetty. Now get as far north-west as you can on the jetty, and use the sniper rifle to zoom in as far as you can on Shoreside Vale. Facing north-west, you should see the backs of some billboards. Now look carefully at the pavement where the billboards are - you should see pedestrians appear randomly on the pavement, and then very quickly vanish again! This is because they are generated and rendered on the pavement, but then disappear again because you're not on the correct island.
On Chatterbox FM*, guest Reed Tucker claims that pizza is of Italian origin - but in fact pizza is not of Italian origin - the modern-day pizza did come from Italy in the 19th century, but it originated much earlier than that, and not in Italy.
Reed Tucker is also quoted as saying, "Why don't you go gnaw on a bone like a gorilla, Lazlow?" In fact, gorillas are vegetarian (the fact that Reed makes at least two mistakes in his banter leads me to suspect that his ignorance is a deliberate character trait).
Kill a male student (tall with a pony tail a longish black coat - the best place to find them is of course Liberty Campus), then take a look at the "lecture notes" he has under his arm. You can use the sniper rifle if you want to zoom in on it, but you should see a very primitive but undeniable doodle of the male genitals performing a natural bodily function! ;-)
Try this: start the Diablo Destruction mission (it's the one in Hepburn Heights in Portland, where you have to get in the blue Toyz van just behind the steps to the train station). When you have control of the RC car, carefully avoid any cars (so the RC car doesn't explode) and drive south. On your left you should see Ammunation - if you get up a little speed, you can actually get the car up over the step and inside Ammunation! You can have a good look around with your RC car.
---
Favourite Quotes
Some of my favourite quotes from GTA3:
"That's what made this country great: people, and opinions... and stuff. Most of all guns."
"Life does not have a reset button."
"Right, but this show does." [click-buzz...]
"Winter was invented by clothing companies."
"Police chief Gary Schaffer was cleared of corruption charges in a controversial decision by the courts - let's hope those missing witnesses turn up safe and sound!"
---
Q & A
When people shout things at me in the game, I have a few stock responses that I shout back at them. It makes the game much more fun for me to match their insults with some witty repartee of my own. ;-) Or have I been playing Monkey Island too much?
Q. "Do you know who I am?"
A. "Sure - a p***k!"
Q. "God - what if you hit me?"
A. "Hey, don't worry - I can get the car fixed."
Q. "Do you want to kill me?"
A. "Is that an offer?"
Q. "Take him out!"
A. "You're not really my type."
Q. "I've got a better car than you!"
A. "Correction - you had a better car than me."
Q. "I'm gonna getcha."
A. "You're gonna get a bullet in the face!"
Q. "Are you on drugs?"
A. "Why, did you want some?"
Q. "Are you blind?"
A. "Yeah - what's your excuse?"
---
Fantasy Organisations
I've also compiled a list of organisations in GTA-world that would make great websites, but don't seem to have a domain yet. If you're thinking about purchasing a domain for your own GTA website, these would surely be worth considering as an angle. Some of the spellings are uncertain - if you can confirm or refute the spellings I have used in any entry marked with a hash (#) then please email me to tell me about it.
Zaibatsu Pharmaceuticals - pharmaceuticals conglomerate, which featured as one of the gangs in GTA2. Manufacturer of the drug Equinox - "Softening life's harsh realities."**
Maibatsu - car manufacturer, maker of the new Maibatsu Monstrosity SUV - "Mine's BIGGER!"
Rakin & Ponzer# - personal injury attorneys. These people come highly recommended. They've started a trend of compensation claim companies here in Britain too, but these are the original and best. They can even train you to jump under a bus and pretend to be injured! Give them a call and: "Get ready to enjoy a life of luxury!"
Fernando's New Beginnings - "We turn an ending into a new beginning." A revolutionary new way to save your marriage! Tune in to Chatterbox FM* for more information and an exclusive interview with Fernando Martinez.
The Happy Blimp - burger chain. Liberty City's buzzing fast food restaurant in the middle of Staunton. A great place for the (non-existent) kids of LC to hang out and chill with their friends. Possibly Bolt Burgers instead?
---
GTA4
Where will the next game in the GTA series be set? Logic says that it will probably be in San Andreas, which was the next city in the original GTA. The third and final city, as you will probably remember, was Vice City - which is probably a parody of Miami, Florida (Miami Vice, geddit?).
Well anyone can be wrong! Latest news is that there will be an expansion pack (remember GTA London?) for GTA3 that's set in Vice City. :-) You know with hindsight we can spot a fair few hints in GTA3 - look at billboards on the western coast of Staunton Island and you'll see an advert for breaks in Miami. And on the wall of the hideout in Portland there's a poster reading: "See you in Miami". Will we meet up again with Ray? The last time we saw him, he fled to Miami fearing for his safety. And what about the mysterious disappearance of Donald Love (who incidentally still makes "live" announcements on his radio stations)? The Vice City expansion pack will preceed the release of GTA4.
As well as the issues I detailed above, other additions improvements I would like to see in GTA4 include the following:
Give the guy swimming lessons - he should be able to swim a little at least, and not start drowning when he's up to his armpits in water.
Add radio news bulletins of latest game events, scheduled for e.g. every 12 or 24 hours - maybe we could have news reports on missions recently completed, mayhem caused around the city, etc.
When radio broadcast goes to an ad, have a random ad instead of just playing through the same sequence - it would make listening to the radio less boring.
Add stabbing weapons like a knife - it would work kinda like the ball bat, silent but deadly.
Total area of city should be bigger - look at Driver and Driver 2 (I hope this would not force the game onto more than one disc though).
"Remove limbs" should be built into the game all the time, not accessed by putting in a cheat (I think this is due to censorship, since there is a version available in America that does have this switched on by default).
Make a small monetary charge for using the trains and subway (at the moment it's free), and you can't use it if you don't have enough money - maybe you have to mug someone else on the platform to get it...
You should be able to use the "look around" function while walking etc., and change weapons while looking.
Player should be able to smash windows with a bat - currently he can only drive through with a car or shoot them (it's also interesting to note that you cannot break windows with your uzi if you are in a vehicle shooting out of the window).
It would be nice if more (preferably all) windows etc. were breakable - but maybe that's asking too much at this stage. :-p
Add snowy weather effects - maybe have the game on an annual cycle as well as a daily one, and record the date instead of simply "Days passed in game". Perhaps the year would have to be shorter than 365 days though.
Allow the player to take a taxi (I don't mean literally!) to his destination, instead of stealing it all the time - why can't I just get in the back, choose my destination by clicking on a map, and pay the guy to drive me there?
How about having the option of getting a real job, I mean a legal job - for example, being hired to be an ambulance driver instead of having to steal an ambulance for the special mission? Or would that be just too lame?
Why are people in vehicles impervious to being hurt? None of them wear seatbelts (or else they couldn't be yanked out of their cars), so how about if you ram other cars too hard, the people in them are killed. This could be represented by having the car just stop with the horn permanently on, and having the driver slumped over the steering wheel. This idea came from my brother, Lloyd Clarke.
More special missions! For example, in an ice-cream van to go around selling ice-creams; in the Trashmaster to take away rubbish from homes and businesses...
---
* Chatterbox FM and Flashback FM are Love Media Inc. radio stations. Distinctive names remain
the property of Donald Love, and are used here under exclusive license. All rights reserved.
** Zaibatsu Pharmaceuticals reminds kids that drugs are for losers.
---