Skinners
---
Introduction
This page is concerned with creating your own Winamp skins. These were initially designed to make Winamp2 skins, but since newer versions of Winamp are backwards-compatible, any skin you make with these utilities should be fine. I do not make any of these utilities, but I have made some templates for Skinner and SkinnerToo, which are available on this page. You will need to download and install SkinnerToo, and then download the templates in order to use them.
SkinnerToo
SkinnerToo, the much-anticipated sequel to the original Winamp Skin Maker ("Skinner"), has now been released! This is a program that allows you to make your own skins for Winamp2 or Winamp3, requiring only a picture file in .bmp, .jpg or .png format. It is very quick to use, as it is automatic via a choice of templates, and is fairly versatile. Although it costs 15 US dollars to purchase the full version (use a currency convertor if you live in other countries), if you make many skins then it is worth it - the non-registered version will only skin Winamp's main window.
SkinnerToo itself, like the original Skinner, can be customised by creating your own templates. I have made five myself, and these are available to download from this page - completely free to you of course. :-) Click the preview picture to download the zip file, then unzip it to your SkinnerToo templates folder (usually "C:\Program Files\SkinnerToo\templates"). Your new template is now ready for use! Please note that these templates can only be used in SkinnerToo's Winamp2 mode - I have not yet made any templates for Winamp3 mode.
Feedback is always read, and always appreciated!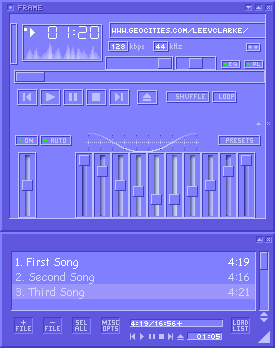 Frame v2.15
Here is a preview of my first SkinnerToo template. The picture I used to create this skin was simply a plain coloured rectangle (275x348 pixels), so you can see how the template adds a 3D effect to give the whole skin a "frame" around your picture. :-)
N.B. Any skins made with this template will look rather silly unless you are using the registered version of SkinnerToo.
File size: 23 kB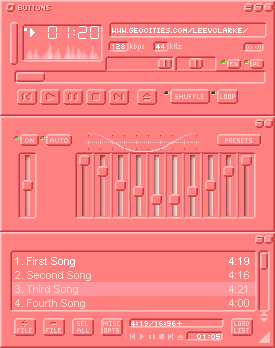 Buttons v1.24
This is my third template. :-) I've put it second in the list for the sake of having alternating colours on the previews as you scroll vertically. Inspired by a Winamp skin from Lemon64.com. I think maybe this looks a bit too much like the Default template - what do you think? Originally I was going to add transparency effects to give curved corners, but I'm not sure it needs it now. What do you think?
File size: 23 kB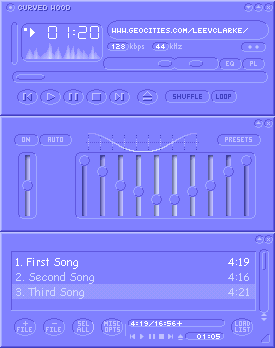 Curved Wood v1.54
Here is the preview of my second SkinnerToo template. The picture I used here was the same as above. The shaping in this template is obviously more subtle, but very effective.
File size: 23 kB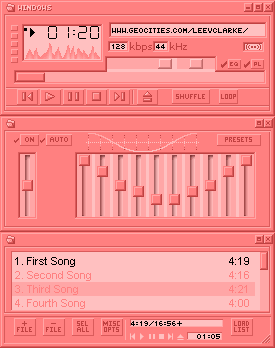 Windows v1.24
SkinnerToo template number four. :-) This is based on Microsoft Windows Explorer. The picture is just a plain rectangle in light red to demonstrate the template. Download a proper Windows Winamp skin from my Winamp Skins page.
File size: 23 kB

Portrait v1.11
Template number five! :-) This is intended to bring together the best of Frame, Full Transparent with perhaps a hint of Button Extractor, all into one template. This template should still have good functionality, but icons etc. are designed to impose only minimally on the picture you are skinning.
File size: 21 kB

Want to see these templates in action? Check out my Winamp page!
---
Another program that is worth checking out is PhatSkinner (formerly known as WinSkin). This is a program that has the option to auto-generate a skin from a picture via a wizard, but it's versatile because you can look at each individual bitmap. :-) It also supports skinning the browser window, and you can easily add your own info/ReadMe file - neither of which can be done in Skinner. The author has also told me that we might be seeing SkinnerToo templates being converted to PhatSkinner wizards, so that you can generate PS skins in the style of Skinner templates. :-) When my templates are available as PS wizards, they should be available for download from this page.
You can even import skins into PhatSkinner - whether these were created with Skinner, created with another skinning tool, created from scratch, or downloaded from the internet, they can all be converted to PS projects! PhatSkinner is somewhere between freeware and shareware - it need never be paid for (although you will to obtain a weekly keycode from the website). You can download the latest version from the official website, linked above.
---